Opie Ortiz is an American artist specializing in tattoos, pop art and murals. Ortiz is best known for his art featured on Sublime album covers. Murals painted by Ortiz can be found in and around Long Beach. Ortiz was also responsible for the "Sublime" tattoo across Bradley Nowell's upper back, which appeared on the cover of the multi-platinum self titled album Sublime, along with the flower art covering the front of the CD. He also created the burning sun on the cover of 40 Oz. to Freedom, the cover artwork for Second-Hand Smoke, 1997's Doin' Time EP, as well as the Everything Under The Sun box set. He has also been a member of the bands Long Beach Dub Allstars, Dubcat and Warchurch.
Authorized Biography of Opie Ortiz by NMH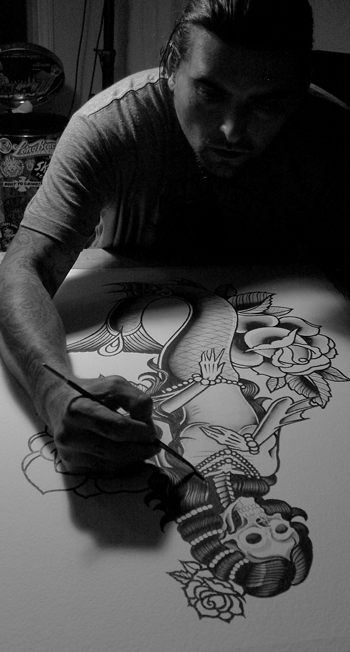 About Becoming a Tattoo Artist:
He's been following this road since discovering the remains of the city's famous Pike amusement park (once home to seven tattoo parlors) as a kid.
"I remember going down there and just being terrified. I was like 6 or 7 years old. Just riding my bike down there and creepy-crawlies just coming out," he says. "All these weird people. Parts of it were still functioning: the military, the drugs, the hookers. It was probably the greatest place ever."
A few years later, he ventured into Bert Grimm's shop—now, Kari Barba's Outer Limits—the oldest tattoo parlor in the U.S.
"I think I was 15 when I started hanging out there. I had one tattoo," he says, struggling to find it in his full sleeves.
"To me, it was like a church, going to church." After a few years smoking cigarettes at Bert Grimm's, watching the haze hang and hang and hang in the stillness of the ruined amusement park, Ortiz met future Sublime bass player Eric Wilson at Wilson High School. Through Wilson, he met Bud Gaugh, the band's future drummer, and Brad Nowell.
"Our love for music was the main reason we became friends," Ortiz says.
Source: Douglas, Theo. "Drawn Together." The District Weekly: June 4, 2008.
From platinum selling CD covers to murals around his hometown of Long Beach, California, Opie is always working on something new.
"I try to paint every day." Evidence is displayed throughout his tattoo shop and home. He sells artwork through galleries and shows, and through his Facebook Page.
See his artwork in person and get a tattoo. Find him at Still Life Tattoo in Seal Beach, CA.
Contact Information

A dedicated father and husband, Ortiz enjoys spending time with his family.
Instagram